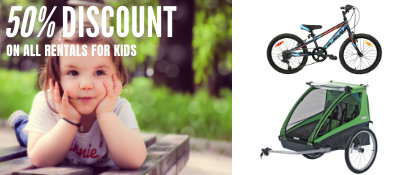 Visit Québec city by bike and bring your kids along for a great family experience!
Dicovering a city by bike is quite a different experience indeed. No parking problem, stop whenever you want, enjoy every minute of the path. You choose the speed, the stops, you'll have more time to see than with a car and see a lot more than on foot! 
Stop at one of our many family dedicated parks, with several kids' installations and games, like the unique MAIZERET PARC, literally a small forest right in the middle of the city, with a march, a maze, a pool, several picnic tables and benches, plus restrooms on location.
Or along the SAINT-CHARLES RIVER where you'll find so many places to stop and let the kids play like at the Cartier-Bréboeuf park, with several benches and tables, kids' play area, choose a shaded spot or full sun, depending on your mood.
Your kids are never going to want to leave the several water fountains you'll find along the Saint-Lawrence River on the Samuel de Champlain Promenade. Pick a spot, just sit relax and enjoy the view while your kids play safely across the water sprays. 
You'll run out of time before you run out of places to see!
When your rent your own bikes, get 50% DISCOUNT on all rentals for kids.
When you book or rent, only time is chosen, no payment will be percieved from the website.
Payment will be done when you show up on location to pick up your equipment.
CHECK AVAILABILITY: